When it comes to the Vagina Diner, do you visit the establishment with the same "last to enter, first to leave" philosophy which Anna Wintour subscribes to for fashion industry soirees? Or do you treat it like you're the magic remote-control assisted Rabbit "The Ravisher" in the
Spaghetti Pig Out episode of Round The Twist?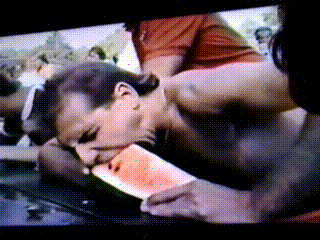 Hold your tongue and that thought for one minute. During a disasterous gambling spree a decade ago, I came to the conclusion that my bad fortune had nothing to do with a complete inability to pick horses and was, instead, a byproduct of the negative karma I'd brought about on myself by listening to lots of violent rap, which could probably only be rectified by me taking a hiatus from listening to zee rap musik for a while until my karmic levels had risen to an acceptable plateau. I lasted 5 days (in which I sneaked a few listens to old De La shit because, y'know, De La aren't like those
other rappers
) and it was a truly miserable period when I came to the realisation that I just don't feel as passionately about the likes of Kyuss, Isaac Hayes, Madonna, Bernard Herrmann, Prince, Black Flag, Funkadelic/Parliament and the Rocky 4 soundtrack as I do about my favourite rappers because other genres don't deal with important subjects in the forthright manner that rap does.
Take the subject of cunninlingus, for instance. Rock bands will tackle the subject by
beating around the bush
, and
feminist singers you'd never want to eat out in a million years
will either skirt around the issue or
sing about it in the most cringeworthy way imaginable
, but only rappers will tackle the subject with any sort of candor which is relatable to those of us who actually have to eat the salmon sandwich, whichever way our tastebuds may tingle.
DJ Quik - Can I Eat It?
"Well my n*gga, you ought to save yo' self some grief
If it ain't worth havin' a little hair in ya' teeth
Ya cuz you'll come up sho't
With a full pair o' nuts and a lump in ya throat
Cuz even though she's screamin, she don't want ya semen
She just want a tooounge to keep her ass creamin'
But Im'a let her know baby doll I can't do it
Not in here and fuck cuz all coochie got a taste to it
See I don't know who been digging you out
And licking ya down
I aint the first girl so I can't clown
But instead Im'a tell you how its done
You gotta tell a ho 68 and I owe you 1"
The Beatnuts - Lick The Pussy
"In and out with the tongue, ain't another brother finer
Cause I can dunk like that fuckin Harold Miner
After I see you here now you're in for a suprise
My lips are suction cups in a fucking fat disguise
Rise up off the bed in a twist
I make your head spin like the fucking Exorcist"
So there's your irrefutable proof that rap is the greatest genre in the history of recorded music, even with the downside of the inevitable This Is Why We Can't Have Nice Things moment when we end up with
My Neck, My Back
by Khia, which just ruins the party for everyone. Serious L-O-L at Khia's record label keeping her as far away from the video as possible :
Khia - My Neck, My Back